Kelly was an honorary #RunPainFree Client, until shoulder pain made her a #RunPainFree Triathlete/Runner!
How did Kelly find #RunPainFree:
Kelly heard about Jessica from Flagship Ambassador, Ana. Ana also told Jessica about Kelly. Kelly started coming to Jessica's #RunPanFree events in 2016. Her coming to every event in 2017 made her well versed for a non-client. Jessica named her an honorary client early 2017 just from her support.
What pain was Kelly experiencing?
Calf pain is what brought Kelly to Jessica for a consult summer 2016. She took her lessons and kept on her training, and coming to #RunPainFree events, and was in need of correction to get to the root of her calf pain. As she approached the NYC Triathlon, July 16, 2017, her shoulder pain became too much for her to deal with, and just 4 weeks (6/14/17), before the race, she started her #RunPainFree Program.
From her assessment the summer before, her It band was already a known issue, which restricts shoulder mobility, so Jessica aggressively address the whole movement pattern, wasting no time to get her shoulder mobile and pain free for the TRI. And in 3 weeks she ran the 15K Boilermaker 7/9/17 with a 7 min PR in Utica, NY where she is from, AND THEN completed that TRI with no pain and swam faster than she thought she could! This is the result for #runpainfree runners who listen and are consistent.
Kelly's correction continued with Tag Team with Dawn. Her correction included IT Band, Hip dysfunction, Lat dysfunction, shoulder restriction, ankle flexion, push off, Calf pain, foot pain, hip flexors and glute activation.
Kelly was headed for several half marathons and 10K's in the NYC Area, including the Bronx 10 miler, Chicago Marathon, NYC Marathon and Queens Half.
Kelly's correction showed her potential in running was much greater than perceived, and the reason why she wasn't there was from the root of her dysfunction was up top, in her shoulder/t-spine area... not in her hips (the most common place), as a root.
With, what she calls "fascia Pirates", showing up from her upper body to her calf or ankle, repeatedly ping-ponging, the restriction was apparent, and so was Kelly's worry. FYI google is not your friend! Thankfully, she trusted the process, fought through all her sessions, homework, rolling extra, dedicated to understanding what her body is doing and what its telling her.. and she is in elite status for correction work.
What are some of Kelly's Accomplishments?
Her biggest goals for 2017 were the Boilermaker 15K, THE NYC TRI. NYC AND CHICAGO.
As you read above Kelly did amazing in the 15k and the TRI. Chicago, although she PR'd, was a tough race for her. It was hot and flat, something an NYC runner isn't used to. We have hills here, so running 26.2 flat, makes your hip flexors work much harder than what constant changing terrain does. We had been working on her push off and therefore hip flexion, at that point in her correction, so this was a sweet spot for Kelly to feel.
Kelly had only mentioned her hip flexors once, and it was before she was even a client, so when her hip flexors started to bother her in the race, the flat consistency. She text Jessica right away and got to her rolling and work to relieve herself. And she did!! HUGE step in correction is being able to get a twinge or a nag, and have the ability to address it IMMEDIATELY and correct it before it becomes anything.
Kelly is a corrected runner, so now her body PREVENTS injuries for her...enabling her to make even bigger goals!
HOW DID DAWN START TO SHARE #RUNPAINFREE WITH OTHERS?
The #RunPainFree program educates the runner so they can go out into the world and help other runners.
Kelly is of the most tenacious runners we have. Constantly refers anyone in pain to #RunPainfree, shares her education, supports all our events, and can answer questions and roll you with knowledge. She's assiated at some events as well!
How has Kelly's Pace Improved?
Kelly is a strong runner. she has improved on every session, every run. She was very locked up when we started.. that shoulder pulls the entire of a run and hers was restricted from many years ago when she broke her collar bone. (Yes. injuiries from 20+ years ago matter.) Below you see her splits from April 2017 and then December 2017.. she's gone from 11-12's to 9 -10 min miles.
The whole purpose of #RunPainFree is to get you pain free and running however much you so choose to. So that YOU are the deciding factor of your runs, not some pain in your body. We create balanced, efficient runners. And Kelly is an example of this!
Kelly takes pride in what her body has come through, what she thought it could do, and what it actually has accomplished. Her own body gives her empowerment to increase her goals from just a 5K to now going for a Half Ironman! #RunPainFree is honored to coach her through them all!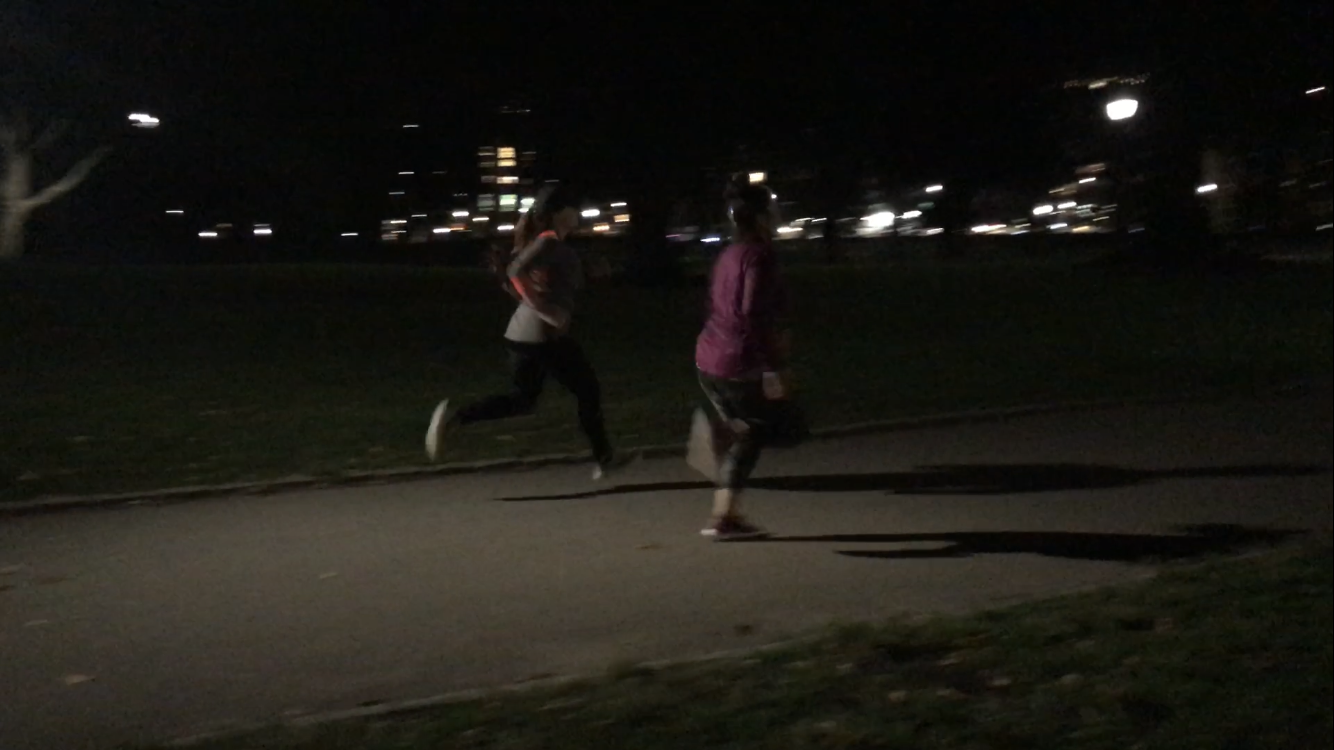 What is Kelly doing currently?
Kelly is curretntly in her #Runpainfree elite status correction with Tag Team partner, Dawn. She is dedicated to her body being its best, so she can get the best from it! She continues to push forward, having a shoulder rooted correction is tough work, and you feel things many others don't.
Currently she is headed for:
Fred Lebow Half 2018
Mini MightyMan Tri 2018
Rock The River Palisades Half 2018
Harryman Olympic Tri 2018
Atlantic City Half Ironman 70.3 2018
New York City Marathon 2018
Kelly has exemplified great respect for #RunPainFree and our mission. She shares what it has done for her running and athleticism. She protects the brand and upholds it with integrity, respecting the process and for that reason has helped countless others on runs with her stick, form, pacing, and leading by example on how important correction work is. She has done this of no influence other than her own, and it is for that reason we are happy to announce her as a #RunPainFree Ambassador!
Congratulations Kelly, on representing our brand with commitment, motivation, dedication, and pride! You are a #RunPainFree Ambassador